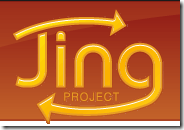 I recently found Jing (this morning as a matter of fact).  It's a great tool (from what I've used so far) for recording images (screen captures) and screen casting (videos of your computer screen).
It's free.  And you can use it to share your images and captures with friends, via ScreenCast.com, FTP or on your network.
There are a few limitations (the following is a direct quote from Take 5: The Video Time Limit – via the Jing Blog):
We think Jing is for quick and simple sharing. Record, send. No scripts, no editing, few retakes. Anything over 5 minutes starts to become a tutorial and we thought things like that are better suited for Camtasia Studio and the like.
File size. Depending on what you're recording, the file size can start to get massive. Once I recorded live video from a web cam and I was up to 55 meg in under a minute. This sort of relates to quick sharing in that we wanted to be friendly to viewers on less-than-ideal connections.
Our video format is SWF. One good thing about SWF is that the quality is lossless (no degradation between what you record and what viewers see). Learn more about SWF near the bottom of this post.
They have some great tutorials, and Jing works on the PC or Mac. So, go download Jing now and see for yourself.
UPDATE: A friend asked me "Why is this better than ALT+PrintScreen (or even regular PrintScreen).  There are a few reasons.
Jing will do a screencast.  It will do a live recording (with audio) of your computer screen.  PrintScreen can't do that.
Jing offers a "hint" when you hover your mouse over a window.  It darkens the other windows, so you can easily see what you are taking a screenshot of.  PrintScreen can't do that.
Jing lets you choose the entire screen, a single application, a single window, or you can draw your own custom sized box. PrintScreen can't do that.
So there you have it.  Three reasons why Jing is better than the regular PrintScreen.